Palm Yoga Owner & Teaching Staff
Rebecca Wood – Owner and Studio Director
Rebecca, owner and Director of Palm Yoga, has been interested in yoga (although she didn't call it that) since she was a child. She used to use breathing techniques to calm her through problems with asthma and allergies. Rebecca loved to stretch as she practiced gymnastics as a young girl.
She moved to Los Angeles in 1997 and took her first yoga class at Gold's Gym. She was hooked. "I remember leaving that class feeling so open and clear. I loved it." She began taking classes at Planet Yoga with Leeann Carey, founder of Yapana Yoga, in Redondo Beach and then entered her first Teacher Training Program at Planet Yoga. That was her first exposure to Kofi Busia who would end up being one of her main teachers when he would come to Los Angeles.
Over the next eight years, Rebecca studied with numerous teachers such as Donna Farhi, Rodney Yee, Erich Schiffman, Richard Miller, Kofi Busia and Judith Lasater. Judith made such an impression on her that she took Judith's first ever Restorative Yoga Teacher Training at the Iyengar Institute of San Francisco in 2000. Once she moved to Tampa, Rebecca began developing a Yoga for Beginners dvd. These videos have been very successful and Rebecca launched a follow up series of DVDs a few year later. We now offer the following Yoga for Beginners DVDs:
• Yoga for Beginners, Vol. 1
• Yoga at the Zoo (Kids Yoga)
• Yoga for Kids (Multiple short sessions for kids with short attention spans)
• Restorative Yoga
Also, check out her Palm Yoga youtube yoga channel for free yoga videos online.
Rebecca continues to deepen her practice through personal practice, workshops with primarily Iyengar yoga teachers and personal study. She gets lots of "off the mat" yoga practice running two businesses, raising her two children and living with her husband of 17 years!
All of our teachers are professionals who have been taught to offer the highest quality instruction in various types of yoga. Every member of our teaching staff is approachable, caring, and possesses a true love for teaching. After taking just a few lessons, you will see why Palm Yoga is Tampa's choice for yoga.
Read below to get to know our instructors!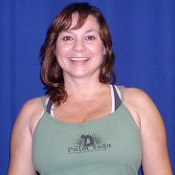 Donna McClellan
I was drawn to yoga the moment I realized how easily and completely it had the ability to ground me. My sleep, my health, my work and my relationships all improved with my increased dedication to my practice. Although, perhaps most importantly my connection and awareness to the world and all living things changed. Without effort, I became "awake", energized and joyous through my practice. It shook off the dumbness of living exhausted. I teach to share that experience, to see students grow & dare & become stronger in body and being. I've been privileged to teach Prenatal classes, Children's classes, Nidra classes, Meditation and Restorative classes in addition to beginner yoga classes. I've taught to blind and handicapped students, I've taught to recovering addicts, homeless and abused students. I've taught in the workplace and on beautiful Florida Beaches, from the very young to the very old. Each experience adding to the richness of my own practice. My philosophy of yoga is the same as my daily mantra "Lokah Samastah Sukino Bhavantu" May all beings everywhere be happy and free and may the thoughts, words and actions of my own life contribute in service to the happiness and freedom for all".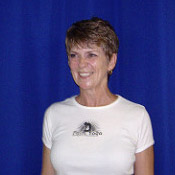 Robin Barth
Every year I made that New Years resolution to get in better physical shape and would join "the gym". Every year after two months I quit " the gym". Then in 2005 I saw the sign- Strength In Flexibility and took my first yoga class. I finally found what I've been needing in my life. Wanting to deepen my own practice I decided to participate in the Teacher Training program here at Palm Yoga. From there I knew I had to share my experience with others in their quest for a better way to a healthy, happy and fulfilled life.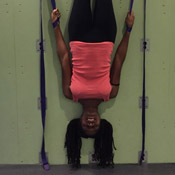 Beverley Carpenter
Beverly is a certified 200-hr yoga instructor at Palm Yoga Studio and is currently pursuing her 500-hr teacher training. She graduated from the University of South Florida with a degree in Psychology. Initially, Beverly came to yoga to improve her flexibility and calm her anxiety. She instantly fell in love with the postures and the pursuit of finding balance between mind and body. She continues to deepen her studies on the mat and as well as finding ways to apply her practice in everyday life.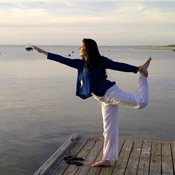 Allison Lynch
Allison is trained and certified in Classic Hatha Yoga by the School of Royal Yoga. She first learned about Yoga during her dance years at 15 years old, when a teacher began incorporating it into stretching routines. At the time, she felt connection to the balance and calm that came from offering the poses, but it wasn't until later she experienced the more profound benefits of Yoga. After being diagnosed with a nerve condition at 18, Allison returned to Yoga to help her heal her body, gain peace of mind, and remain active. Her first class was Gentle Yoga at the School of Royal Yoga and knew it would guide her on her path to well-being on all levels. It became a beloved practice and felt important to gain deeper knowledge and experience to share it and teach others. She went on to receive her teacher training and certification under the teachings of living guru, Hari Aum Tat Sat, at the School. Her education continues with seminars in Ontario, Canada, at the Royal Pathways, varied classes, and self-study. Allison focuses on including guided relaxation, gentle stretching, demonstrated poses, intentional breathwork, and meditation, in each of her classes. Her goal is to create a safe space to allow for the unfoldment of your body and development of your practice. And if for nothing else, she is here to help you just take some time out for you!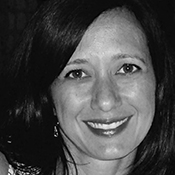 Stacy Fender
I am a wife and mom, a creative woman and a caring friend. Before finding yoga, I was led in many directions by other people's perceptions of success and happiness. Yoga has helped me to find a calm, strong center from which to live my own story – allowing each chapter to unfold and meeting it with honesty, laughter, compassion, and flexibility. Taking moments away from my busy life to "maintain" my own physical, mental, and spiritual well-being has given me much more energy, confidence, and personal sustainability. I hope to provide my students with a safe, nurturing environment to find their own strength, self-guided focus, and peace.
Sign up for a class with our easy online registration