Palm Yoga Classes for Beginners classes are 60 minutes long. In these classes, you will learn how to breathe as well as the details of each pose and how to perform poses properly. Yoga for Beginners classes focus on building strength and flexibility in the legs, hips and spine. We use props in YFB to have the pose fit your body, not vice versa. Your instructor will offer both verbal and physical adjustments to help you experience the best pose possible for you. We discuss anatomy and kinesiology (movement) that makes you develop body awareness and learn the right way of moving in and out of the poses. This is a great class for people that are:
new to yoga
restarting their yoga practice
dealing with injuries or special needs
looking to deepen their knowledge about yoga and the poses
You can stay in Yoga Poses for Beginners for as long as you want, but most people take this class for 6-12 months before moving to our Level 1 & 2 or Vinyasa Flow class. However, the most important thing is for you to practice yoga, so find a day and time that works for you and come to class! Our teachers are well-trained and know how to safely work with people of varying fitness/flexibility levels.
Palm Yoga Classes for All Levels classes are a middle ground between Yoga for Beginners and Advanced. Appropriate for all students because we customize the practice to meet the needs of each student with props and/or pose variations. No floor inversions are taught in this level, only Yoga Wall inversions.
Palm Yoga Classes for Level 1 & 2 classes the student is expected to know the basics as we delve deeper into the poses and anatomical movement. Level 1 & 2 Yoga Technique students relearn the basics at a deeper level and get the opportunity to practice more complicated forward bends, back bends and twists, arm balances and inversions. Again, we use props to encourage the body to explore its "edge" and support deeper stretching. We also introduce yogic philosophy in these classes to inspire you to take your practice 'off the mat' and make a difference in your personal and/or professional life.
Palm Yoga Classes for Vinyasa Flow classes are a place for you to practice the form and function of the poses learned in our Technique classes. It is a yoga workout! The pace is faster and more aerobic than our technique classes because you will flow from one pose into the next without as much instruction, sometimes through a vinyasa and sometimes not. This style of practice generates body heat to help you release toxins through sweat and develops much needed upper body strength. Bring a towel as you may sweat onto your yoga mat! It is a great way to let go of your day and get your creative juices flowing. You will love the way it creates an alert calm in your body!
Palm Yoga Classes for Kid's Yoga and Mindfulness Meditation Kids gain an understanding of their body and mind when practicing yoga and meditation. These classes will teach your kids how to stretch and connect with their bodies, calm their minds, and protect themselves from the negative effects of stress. Sounds heavy, right? Don't worry – kids learn these life-long skills in kid-friendly ways that are both fun and effective!
Palm Yoga Classes for Private Yoga Sessions
Private yoga lessons and Semi Private yoga classes are available by appointment only. Each private session is 60-minutes long unless otherwise noted.
Private lessons are available for those who have a specific goal in mind, injury or want to learn at their own pace. Many people that are new to yoga will begin with a series of private lessons and then transfer into our Beginners program. Another popular option is taking private lessons to work on a specific physical goal: stronger back, more flexibility in the legs/hips, or developing more strength overall. Privates and Semi-privates (two people) are available by appointment only.
Our yoga wall is unique to Palm Yoga in the Tampa Bay area. It is an amazing teaching tool that is used to guide the body into a wide variety of poses while creating body intelligence through contact with belts and other props. The yoga wall is an important piece of our mission at Palm Yoga: to offer experience, knowledge and expertise while teaching the postures in a safe, therapeutic environment. And, it's FUN!
Pricing:
Single session: $85
90-minute single session: $120
4-pack of sessions: $320 (3 month expiration)
8-pack of sessions: $600 (4 month expiration)
Yoga Wall Session: $120/hour
Call or Text Rebecca at 813.951.3450 to schedule a private lesson today!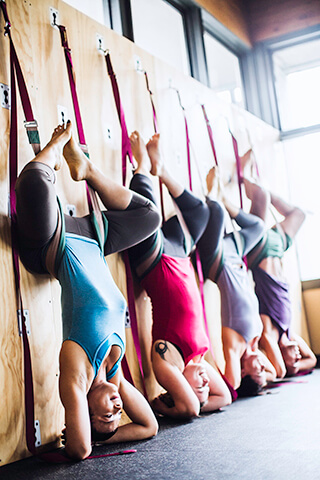 Workshops & Events
All of our workshops & events at Palm Yoga are chosen to support you on your path to enlightened living. Throughout the year, Palm Yoga offers a wide variety of yoga workshops ranging from Partner Yoga to Nutrition to our ever-popular Restorative Yoga workshop. Workshops are an important part of your practice because it gives you dedicated time to experience or learn more about a specific aspect of yoga. They are a great way to expand not only your practice but also your mind. Workshops also encourage a sense of community as a group comes together to learn, and then leave as friends.
Yoga Retreats
"Silence is a source of great strength." Lao Tzu
Yoga retreats are a special time of withdrawal from your daily life and responsibilities to experience a different rhythm for a day or weekend. Most of our retreats have an overarching theme and include daily yoga practice, meditation time, group activities such as kayaking and great food! Our past retreats have been to Amelia Island, Anna Maria Island, and to an ayurvedic retreat in Ona, Florida.
Our retreats are a wonderful way to relax and rejuvenate with:
*Outdoor yoga
*Meditation
*Ayurvedic consultations
*Ayurvedic Cooking classes specifically designed for your dosha
*Walking meditations
*Delicious lunch
*Quiet Time
*Closing circle
Upon your return, you will feel younger, healthier and way more relaxed! Sign up today!
Sign up for a class with our easy online registration