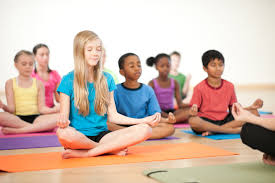 Our Kids yoga and mindfulness meditation (ages 6 to 10) classes are fun, interactive and develop a deeper sense of self for all kids. Both yoga and mindfulness meditation are important ways to develop physical flexibility, mental resilience, prevent sports injuries, enhance concentration, and understand and successfully handle big emotions such as fear and anger.
Combining the active practice of yoga and the calming practice of meditation, Palm Yoga gives kids a real toolbox to use every day to deal with stress, overwhelming emotions, and scattered attention. Our Kids Yoga classes will include fun, thematic yoga, stories, games, breath work and exercises for body and mind. The mindfulness meditation classes use kid-friendly techniques to build kids' inner and outer awareness and attention, which positively affects academic performance and social and emotional skills such as making friends, developing compassion as well as managing stress, addressing ADHD, hyper-perfectionism and anxiety. Rebecca, owner of Palm Yoga, will teach the mindfulness meditation classes. She graduated from the Mindful Schools program, which has impacted over 750,000 kids worldwide.
Today's kids are facing more stress and stimulation than any other generation of kids. The pace and demands of modern life can be overwhelming to our youth. In 2015, the US Census estimates that there are 74.5 million children under the age of 18. It is estimated that 17.1 million young people have or have had a diagnosable psychiatric disorder according the Children's Mental Health Report. The most common disorders of childhood are, in order, anxiety, ADHD and disruptive behavior, depression and eating disorders. Yoga and meditation have been studied and proven effective in treating adults with these conditions. Now, these effective, inexpensive and non-invasive techniques are being taught to the youngest members of society to help our kids develop in happy and healthy ways.
Once a quarter, we will offer a family day where parents and siblings of each student can come into class and learn what the student is learning. This way the whole family is involved in learning new ways of communicating, thereby creating household harmony!
* new students only, residents of Tampa Bay
Class packs must be used within six months of purchase.
Kid's Yoga and Meditation: 8 classes – $120
We offer two membership options: six months or annual. The six month membership must be paid in full. Annual may be paid in full or in monthly payments.
5 classes/month - $80/month or $450
9 classes/month - $110/month or $625
Unlimited classes/month - $129/month or $750
Memberships have a 30-day cancellation policy.